Born and raised in Burlington, Ontario Canada, Kayla graduated from Assumption Catholic Secondary School in 2007. In September 2007 she enrolled at Stanford University in California. She earned a full academic scholarship prior to entry and topped that with a full rowing scholarship in her Junior year. She graduated with a BA in 2011, and earned her Masters of Linguistics degree in 2012.
Science Fair Participation
BASEF
2002, 2003, 2004, 2005
CWSF
2003, 2004, 2006
IISEF
2005, 2006
Education
| | |
| --- | --- |
| High School | Assumption Catholic High School, Burlington ON 2003-2007 |
| Post-Secondary | Stanford University, California  2007-2012  |
About Kayla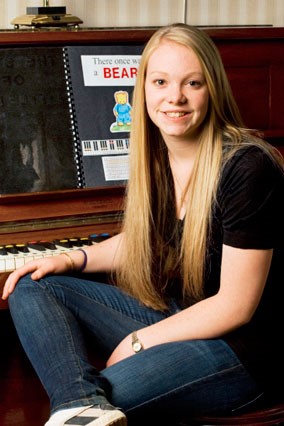 Inspired by her autistic cousin, Lorena, Kayla created and developed the teaching system Sounds into Syllables® to help children with autism overcome their communication and social development difficulties.
Sounds into Syllables® was the subject of science fairs for Kayla from 2004 and won over 50 awards world-wide, including Best in Fair for Canada. In 2005 and 2006 she represented Canada at the Intel International Science and Engineering Fair (ISEF), placing 1st in the world in the category of behavioral and social sciences.
Recognition
Kayla was named one of Canada's Top 20 under 20 in 2006 and was one of twenty Canadian students to be awarded a TD Canada Trust Scholarship for Outstanding Community Leadership in 2007. She was also the recipient of an IT Hero Award from the Information Technology Association of Canada, a Gloria Barron Prize for Young Heroes and a finalist for a BRICK Award in 2007.
In 2007 she was one of seven individuals chosen by CNN to receive a CNN Hero's Award. Over 7000 people from 80 countries were nominated for this award which was presented on December 7, 2007 on "CNN Heroes: An All-Star Tribute". This award show was broadcast globally from the American Museum of Natural History in New York City. Cornale appeared on CNN, along with Lorena, who delivered a sentiment she'd never been able to say before: "I love you, Kayla."
Other Interests
Kayla has always had a strong love of athletics. She is an avid snowboarder and golfer and has played rep and varsity basketball and volleyball throughout high school as well as intramural basketball and varsity rowing at Stanford.
Where is Kayla now?
After graduating Kayla combined her love of sports, education in linguistics and care for the less able among us. In September 2012, she accepted a position with Athletics Ontario as its Para‑Athletics Coordinator. Her role is to oversee and manage the merging and development of services for athletes with a disability into mainstream Athletics Ontario programs.