Who inspires and encourages your kids?
There are some amazing teachers in our community who are helping prepare students for this year's Bay Area Science and Engineering Fair (BASEF).
The Champion Teacher Recognition Award for 2015 includes induction into the BASEF Champion Teacher Hall of Fame, a plaque, and $250 for use in the classroom of each the winning teacher. A panel of BASEF Organizing Committee members selects the Champion Teacher Recognition Award winners from among those nominated online by their peers, parents and students.
2015 Inductees
Sonja Greene & Lenora Maracle, J.C. Hill Elementary, Six Nations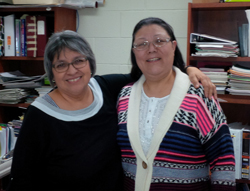 These Champion Teachers will be inducted into the BASEF Champion Teacher Hall of Fame at the BASEF Awards Ceremony on Tuesday, March 31, 2015.
These teachers initiated a program to encourage their students' interest in science by relating science to familiar aspects of their indigenous culture. Their dedication to developing their students' competitive science project skills is worthy of high praise.